Gear
Review: Juggernaut Case Plate Carrier Phone Mount & Car Charger
Cell phones have become an almost inseparable part of our daily lives, and this fact comes with some benefits and drawbacks. On one hand, it's harder than ever to escape annoying spam calls, and there are some security concerns related to carrying a GPS-enabled computer in your pocket 24/7. On the other hand, our phones offer high-definition photo and video capabilities, sophisticated mapping and navigation, encrypted communications, and the ability to research just about any subject in seconds. Military-developed apps like ATAK add even more value. For these reasons, we're inclined to embrace our smartphones as survival tools and integrate them into the rest of our gear. In this article, I'll explain how I used parts from Juggernaut Case and RAM Mount to adapt my smartphone to a plate carrier and a vehicle-mounted application in my Toyota 4Runner.
The Juggernaut Case IMPCT
Juggernaut Case isn't your ordinary commercial-grade phone case manufacturer — Juggernaut Cases are made in the USA and primarily sold to military personnel, law enforcement, and first responders in fields such as search and rescue. In any of these professional environments, phones are subjected to considerable wear and tear, and a shattered screen is guaranteed to be much more than a simple inconvenience.
Over the last 20 years, the company has listened to feedback from these professionals and used it to make the cases stronger, more secure, and more convenient. So, even if you're not a full-time first responder, you can still benefit from all the R&D they've contributed.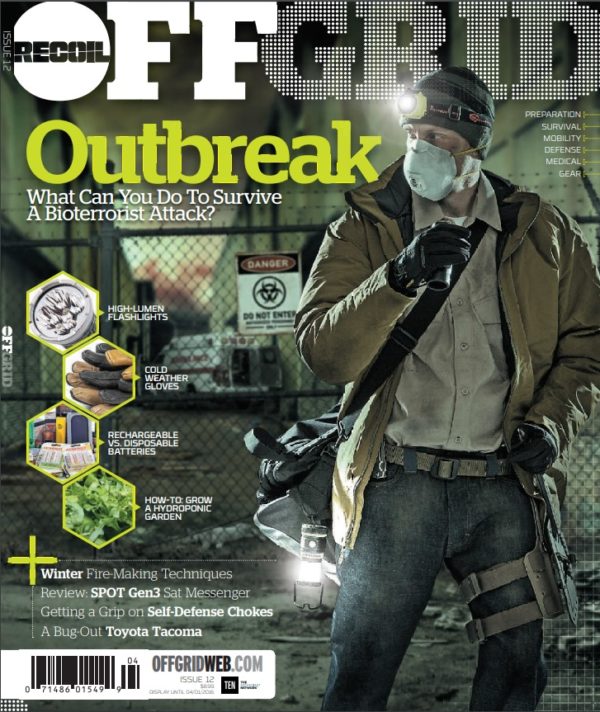 Subscribe Today and Save!
Above: The IMPCT case features a slide-in design with a locking top cover that holds the phone inside. Rectangles of dampening foam prevent the phone from moving or rattling within the case. At the bottom, there's a removable dust cover that shields the charging port when it's not in use. Color choices include black, white, grey, and Flat Dark Earth (pictured).
Juggernaut Case offers several different designs for phones and tablets from Samsung, Google, Apple, and Panasonic. These range from the original CASE, which features IP67 waterproof/dustproof construction and an integrated glass screen protector, to the IMPCT, which features a lower profile and easy access to all the device's buttons and ports. Since I don't plan on carrying my phone on a HALO jump or amphibious assault any time soon, I picked up an everyday-carry-friendly IMPCT case (size Large) for my iPhone 11 Pro Max.
Attaching the Juggernaut Case to a Plate Carrier
One of the biggest advantages of a Juggernaut Case is its ability to interface with various mounts, docks, and cables made by the company. The most widely-known of these is the PALS Plate Carrier Mount, pictured above, which attaches your smartphone to the front of any plate carrier that includes PALS webbing for MOLLE accessories.
Juggernaut phone cases feature built-in notches that snap into Juggernaut mounts, so your device will remain locked firmly in place until the release tab is pressed.
This mount's flip-down hinge design offers easy access to the touchscreen, so you can view maps, communicate with teammates (or friends/family members), and even control a drone for live reconnaissance. When the phone is folded up into the stowed position, an included elastic band holds it in place.
Although I had some initial concerns that this placement might impede access to my AR mags, it's slim enough that the mags are still easy to grab.
Above: There's a rectangle of loop fabric attached to the PALS mount's exterior, providing a location to attach Velcro patches.
I also learned that the Juggernaut Case plate carrier mount works surprisingly well as a "DIY bodycam" setup. Although I don't have a professional/operational need for this, it's a pretty convenient way to capture hands-free recordings of drills or competition stages without the hassle of setting up a GoPro.
Here's an image captured with my phone in the Juggernaut Case PALS mount on my TYR Tactical plate carrier. This mounting location works great for capturing stills or video, with either the 1x standard or 0.5x fisheye lens settings on my iPhone.
It's worth mentioning that the fully-folded position angles the camera skyward, at least on my plate carrier setup. Fortunately, the hinge has enough friction that it'll still hold the phone steady if I undo the elastic band and lean the mount forward to the desired angle.
Vehicle Mount & Inductive Charger
While looking at Juggernaut Case mounts, I noticed that the company also offers mounts designed to integrate your phone into a vehicle. These include the same snap-in attachment system as the PALS mount, and range from basic vehicle mounts to plug-in docks and wireless inductive chargers. The docks are only available for select Samsung devices, so I decided to go with an Inductive Charging Vehicle Phone Mount instead (size Large). This allows my iPhone to charge wirelessly without the need to remove the dust cover and plug in a cable every time I get behind the wheel.
The Juggernaut Case inductive mount features a standard 4-hole screw pattern that's designed to interface with a rectangular RAM Mount ball base. So, I picked up one of those separately, and attached it to the Juggernaut mount with Juggernaut's included hardware. RAM Mounts are completely modular, so I was able to mix and match components to attach my phone mount exactly where I wanted it inside my 2022 4Runner.
Here's a list of all the parts I ordered to complete my vehicle mount:
I started the installation by determining where I'd attach the base of the RAM Mount. Although the company offers suction cups and other non-permanent mounting bases, I had a feeling these might not be ideal for hard use on rough trails, so I decided to drill into a trim panel on the dashboard — the final placement can be seen above.
A strip of double-sided 3M mounting tape was applied to the Diamond Ball Base for extra strength. Then I removed the dash panel, drilled two holes, and attached the base to the panel with a pair of M8 socket head cap screws and nuts I already had in my garage:
After cleaning up the plastic shavings from the drill and reassembling the dash, I was able to attach the RAM Mount short arm and connect it to the ball mount on the Juggernaut Case charger. The ball mount system allowed me to pivot the arm into a position that remained visible but didn't impede my view of the road.
With the RAM Mount arm and all the hardware fully tightened, this phone mount won't budge an inch, even on the bumpiest trails. It's rock-solid.
For a seamless look, I routed the Juggernaut charger's 36-inch USB cable through a seam on the dashboard and out at the top of the center console, then connected the end to an Anker 2.4A USB adapter in the truck's 12V outlet. The 4Runner's dedicated "media" USB port features Apple CarPlay functionality, so I plugged a Carlinkit wireless CarPlay adapter into that port — this way, I can still use the 4Runner's nav screen for my favorite map and music apps while the phone charges wirelessly.
Just like the PALS Mount, my iPhone snaps into the car charger with an audible click. Releasing it is as simple as pressing the tab on the left side of the mount.
The RAM ball mount lets me quickly rotate the phone 90 degrees and use it in portrait or landscape mode. Either way, the inductive charger keeps the phone battery topped off while I'm driving.
Closing Thoughts
With one phone case and two mounts, I now have the capability to take my phone from my pocket to my plate carrier or my truck's dashboard in seconds. The Juggernaut Case system keeps it secure and protected in any of these locations. It's also nice to know I can always expand my options even further with Juggernaut's backpack strap mount, bike mount, belt mount, and so on. Just like a holster for a firearm or a sheath for a knife, a dependable phone case ensures this important (and expensive) tool is ready and protected at all times.
For more information on Juggernaut Case products for your phone or tablet, go to JuggernautCase.com.
---
Prepare Now:
Disclosure: These links are affiliate links. Caribou Media Group earns a commission from qualifying purchases. Thank you!
---
STAY SAFE: Download a Free copy of the OFFGRID Outbreak Issue
In issue 12, Offgrid Magazine took a hard look at what you should be aware of in the event of a viral outbreak. We're now offering a free digital copy of the OffGrid Outbreak issue when you subscribe to the OffGrid email newsletter. Sign up and get your free digital copy Click to Download!
---